French Writing:
We are proud to offer three lines of fine writing pens from France. Each has its own very distinct style, ensuring the perfect pen can be found for everyone!
Vuarnet
The name Jean Vuarnet is synonymous with authenticity, style, and performance. Returning to his home in France after his masterful downhill skiing performance at the 1960 Squaw Valley Olympics, Vuarnet is back in the USA with his new line of fine writing pens. Vuarnet pens capture the performance and style that Jean Vuarnet has made famous.
---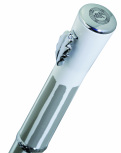 Ines de La Fressange
The pleasure of writing with Ines de la Fressange. For Ines de la Fressange quality and design are everything
- a perfect
homage to the fashion and beauty of Paris.
An ideal little luxury for everyday writing.
---

INK PEN
Banish boring pens! The ink line of fountain and roller ball pens offers fresh,

fun designs to make your daily writing fantastic.

---