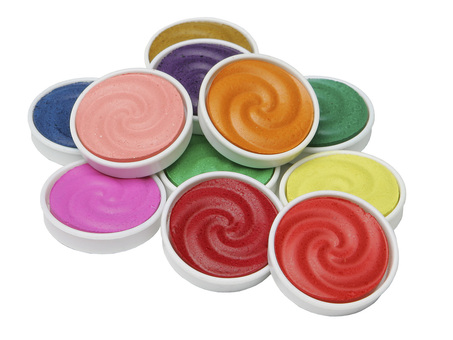 OK, I am ridiculously in love with these little watercolor pans. We brought in Jolly's new TwinTabs watercolor set this spring and really like it's flexible, modular design with a separate mixing palette built right in, but love, love, love the paint itself! Not only does cover beautifully with great, vibrant color, but it's just plain pretty with its swirls. Why have a boring flat color pans when they could be swirly??

Now, (OK, in two weeks when the shipment finally arrives) we're adding the replacement color pots. Yep, find yourself in a green period, using up all of your greens while the other colors sit beautify to the side? Just buy the replacement green pots and keep on painting! The individual colors pop right out of the paint tray to receive our new, almost here, replacement pots.

My only concern is that I'll spend more than an afternoon out in the warehouse cracking open each box just to "ooooh" over each color's serpentine perfection...