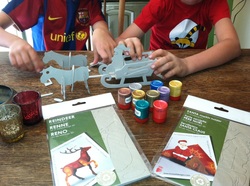 Like many households, ours disagrees on the correct date when Christmas decorations can be hauled out, or when Christmas can even be mentioned! Some of us stick with the "not until December" tradition, while others argue for the day after Halloween (take a good guess who belongs in which camp).

Imagine the surprise on the kids' faces when we told them (before Halloween no less) to break out the new Frida metallic paints because Santa's sleigh needs building! Yes, Christmas came very early with the arrival of our new line of Christmas 3D models.

Create a whole team of reindeer to decorate your mantel, a Santa napkin holder to add some festivity to your kitchen table, or stuff Santa's sleigh full of those nougaty candies with Christmas trees in the middle. Yep, just thinking about those candies makes me want to string up the lights and hang up the stockings!