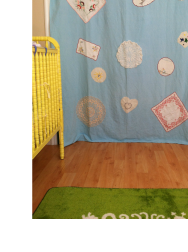 Over the years I've collected a lot of small embroidered pieces, mostly from family. There are the handmade pieces of lace from David's grandmother, the embroidered table cloths that are too small for any table I own, and the little pieces made with love by my 8 year old at summer camp. They sure are pretty, but the question has always been, what do you do with all those little doilies??

I have found one answer. Stitch them all onto a large piece(s) of fabric and use 'em as curtains. I used here baby's great-grandparents' linen sheets dyed for a little more color. It would be preferable if you were arty and had a good sense of composition to make your curtains extra attractive rather than let your 8 year old do the layout (ahem).

Even with questionable layout, I'm thrilled with the outcome. It's a fabulous way to bring the faraway French countryside world of baby's great-grandmother into her daily life, and an opening to tell all of the family stories.